Lawrie's Christmas Letter - 2001 in Review
Well another year has passed, this time with no major dramas or highlights, save perhaps for reaching my 40th birthday! As usual my social schedule has been a packed calendar of dancing in various and assorted styles, and I've been out and about enjoying the glorious bush, water and mountain scenery that we're blessed with here in Australia. Also work has been rather more routine this year, thankfully.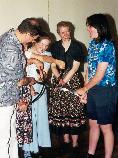 The year started with a very enjoyable New Years Eve party hosted by Colin Moore-Towns. The photo left shows Colin and others getting their wrappers into a knot!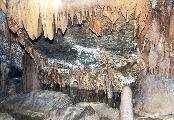 After getting back to my favorite beach at Pt Addis for a lovely couple of days of swimming and sun-baking, it was time to head back to Canberra. On the way, I stopped for the night at Buchan, and enjoyed a tour of "Fairy Cave" (right). During the year I headed off on several day walks with the "Family Bushwalkers" group that I've been part of for some years now. The highlight of these was probably the walk up "Sentry Box" in mid-June in the southern part of Namadgi National Park. The scenery and views were just magic - although it was a very hard walk!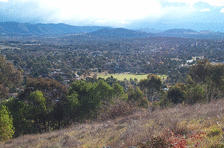 Closer to home, one of the lovely aspects of living in Canberra is being able to go for a walk up a hill, or along the Murrumbidgee river, just a few minutes drive from home. The photo left was taken from the hill in Chisholm. It has wonderful views west and south to the Tidbinbilla and Brindabella ranges in the distance, with the Tuggeranong suburbs closer by. Home is pretty much dead centre in the photo, just beyond the open area though obscured by the trees.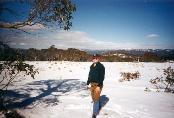 Moving somewhat further afield, I managed a few days of skiing this year (not enough since the snow was late arriving). The photo above right is of me cross-country skiing with David Vickers at "Kings Cross" (near Mt Selwyn) in the northern part of Kosciuszko Nat Park. I also managed a couple of days of downhill skiing at Perisher, including one day in late-Aug with some of the best skiing in glorious sunny weather that I've ever been lucky enough to experience!



I still really enjoy dancing Ceroc as a major part of my regular social activities. In Feb I went to a great pool and dance party at Kellie's, with whom I dance a lot. The photo (left) is of Kellie doing a "Lady Drop Kick" with me. The photo right is from my 40th birthday party in Nov, doing a Safety Dip.
In April I went to an Aqua Aerials workshop, where we practise the moves in the pool, so when we stuff up its "splash down" rather than "splat down"! The photo below left shows me with Claire attempting the "G-Lift". This needs more work though!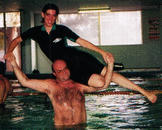 I dance with Ceroc Canberra and with Gaby's Dance Studio (GDS) (who do a great mix of ceroc, ballroom and latin). I dance with both groups most weeks, and I try to get to their dance parties. In July at the Ceroc Canberra party, I was dancing with Erin, and the photo right is of us dancing the "Hanger" mid-move! I've also enjoyed a number of the GALA Events ballroom dances.

Also in July, GDS had their first birthday ball at the Canberra Rex hotel, see photos below. It was a great night, with dinner, and a wonderful "Can Can" display a la Moulin Rouge (below left). The ladies were dressed to the hilt in gorgeous gowns (see Anna, Kellie and Jennifer - below), and we had a great evening of dancing (below right). I even arrived in a limmo, courtesy of Meg who won the ticket raffle!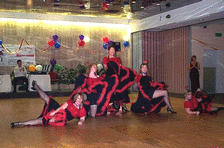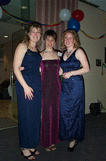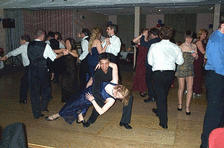 In November I celebrated my 40th birthday with a party in Waldock Hall at Canberra Baptist Church (which I've attended since I came to Canberra). It was a wonderful night. It was really great to have my brother David and sister Robyn there. They flew up from Melbourne with my birthday cake baked by Mum and decorated by David (below left). There were around 50 people there, for an evening full of dance, ranging from Ceroc to Ballroom to Folk/Colonial, as well as lots of talking, playing cards and general merriment! The photo center is me dancing a "Hanger" with CÚcile. The cutting of the cake included lots of bubbles (unknown to me till then - see photo right!)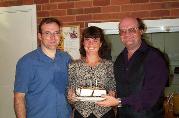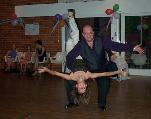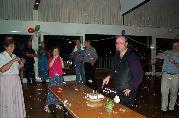 Apart from Ceroc, I headed off to a number of folk festivals as usual, including Numeralla, Cobargo, Jamberoo (with Lyz Hindmarsh visiting from the US, which was great), the National, Holbrook and Majors Creek. Its always great to relax and experience some wonderful music and dance at these. I also got to the wonderful Cabramurra Scottish Ball down in the Snowies, on again this year.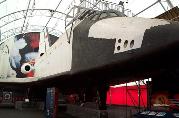 I also managed a bit of local travelling this year. In July I spent a week in Adelaide for the SAGE-AU conference, and a bit of sightseeing, which was nice. In September I was in Sydney for the AUUG conference and workshops (I ran 2). Whilst there I went to see the Russian Buran Space Shuttle there on display (right). It was really interesting being able to crawl over it. In Nov I got to spend a lovely few days relaxing with Warren and Lynne (ex ADFA, who now have a magnificent place on the Gold Coast) before heading to Brisbane for the AUUG Security Symposium.

I guess that just about covers the highlights for this year. I hope you're keeping well, and look forward to hearing your news. Have a wonderful Christmas and all the best for the New Year!
With my Best Wishes and Lots of Love - Lawrie - 6 Dec 2001.
---
The latest copy of this letter is at: http://www.canb.auug.org.au/~lpb/diary/xmas01.html
which is located on my personal web site: http://www.canb.auug.org.au/~lpb/
You can send email to me at: Lawrie.Brown@canb.auug.org.au