Lawrie's 2003 Annual Letter
Hi, I hope this year has treated you well, and that you've been having fun! For me its been pretty routine. Work has had its ups and downs as the place has been reorganised almost out of recognition, and my Master's classes have been far too popular (marking is hell) sigh! However I've been keeping up a pretty busy social schedule as usual. So here's my years highlights in pictures ....
Lets start with some contrasting scenery - a tree stark against the smoke from the Canberra bushfires in Jan (I missed the worst of it, being in Melb, but this shot was taken as I drove back up the Monaro Hwy a few days later). As a nice contrast - my courtyard garden with the tulips and irises in bloom, and a lovely display at Floriade, both in Oct; and the very pretty Majors Creek Falls, which I finally located the track to out the back of the festival grounds this year. There are great views down the Araluen valley from the top of the falls.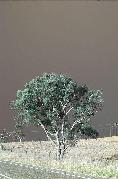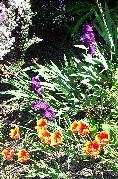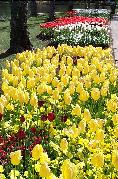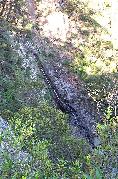 In May I flew to the Gold Coast in Queensland for the AusCERT IT Security conference. The conference dinner was at Dreamworld, where I got to admire the tigers (safely over the moat on Tiger Island), and enjoy the fire dancers display during our dinner (not to mention tackling the "Tower of Terror" 4 times!). Also spent a lovely few days with Warren & Lynne, who took me on some nice drives, including one round Mt Warning (view as we descended the border range escarpment).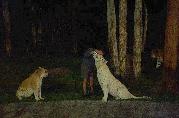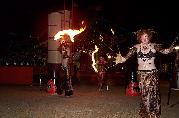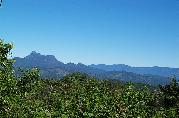 In Sept I headed up to Sydney for the AUUG conference, staying just north of the Harbour Bridge. I enjoyed a very pleasant walk over the bridge with lovely views of the harbour. At the end of Oct I headed off cross-country skiing above Charlotte's Pass - it was a very windy day but I had a great time on the snow - I do love being out in the mountains. And a lovely sunset shot over Lake Burley Griffin here in Canberra with the Library and Black Mountain Tower both visible, in Nov.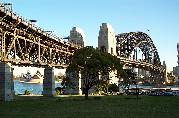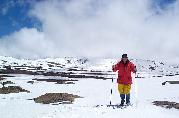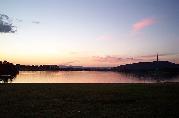 In July, after competing in the GDS competition on the Sat (dancing ballroom with Liz, and ceroc with a UK visitor Julia), I raced down to Melbourne on the Sunday in time for a family dinner with David, Robyn and Mum for David's 40th birthday. A few days later I took this shot of Robyn riding Smurf, whom she's been competing on this year. Then in Aug I headed up to Sydney for Edwina's 21x2 birthday (a few months before she come down to Canberra for my "Meaning of Life, the Universe and Everything" birthday BBQ in Nov). For contrast went to Lauren's 21st in Oct!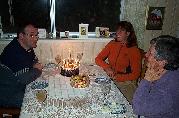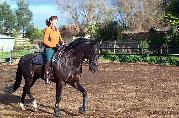 Needless to say I've been doing lots and lots of dancing. As its been for the last few years, Ceroc is still definitely my favorite style, especially the dips and lifts. So here's a few photos of me dancing a "Possum Drop" with Sarah, working on the "G-Lift" with Lauren at the Aqua Aerials workshop; and next row - dancing a "Hanger" with Angela (whom I did the Ecuador routine workshop with - lots of fun), and lastly dancing a "Tango Twist Dip" with Cera. But I did also dance other styles, vis the Monaro Colonial Dancer's display at the John O'Brien Fetival in Narranderra in March again this year; and went to a number of Gala Events Ballroom theme dances (see Dragon Gemma attacking the Wench - great costumes!). I've also enjoyed a number of folk concerts at the Merry Muse folk club here in Canberra and at festivals including the National at Easter, Albion Park on Queen's Birthday weekend, Jamberoo in Sept (photo of Frencham-Smith performing there), and Majors Creek in Nov. Not forgetting the Bungendore Dance weekend in October, where I taught a workshop on New Vogue dances (which was well received), and enjoyed the wide variety of dance styles we sampled over the weekend.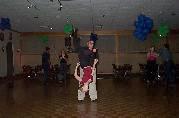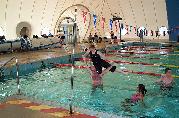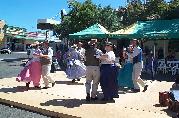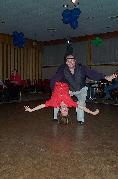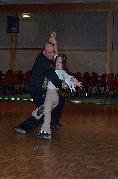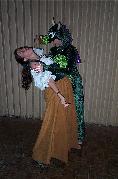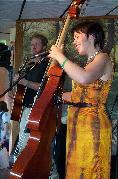 So thats about it for now. I hope you're keeping well, and look forward to hearing your news. Have a wonderful Christmas and all the best for the New Year!
May your life be filled with peace and joy this Christmas and New Year Lawrie - 4 Dec 2003.
---
The latest copy of this letter is at: http://www.canb.auug.org.au/~lpb/diary/xmas03.html
which is located in my personal web site at: http://www.canb.auug.org.au/~lpb/
You can send me email at: Lawrie.Brown@canb.auug.org.au
---
And a few more photos that I didn't get room to squeeze into the printed letter. There's dancing at the Springtosh Irish dance weekend outside Melbourne, just before heading back in Jan, a lovely shot of a fallen tree in the Badga river at Numeralla in Jan, the Sydney Irish Dancers "Wedding" display at the NFF, and an number of photos from the GDS competition in July - me dancing ballroom with Liz, dancing ceroc with Julia who was visiting from the UK, and the winning Newcastle cabarat team.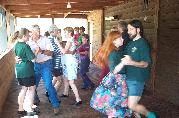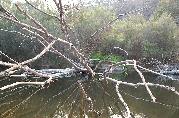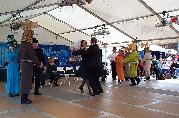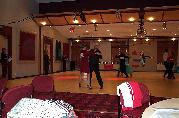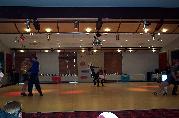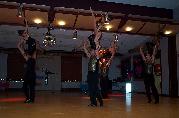 ---