Lawrie's 2022 Year in Review
Greetings again another year on, with people trying to get life back more to what it was. I've managed to travel a bit more, though only around eastern Australia, and to keep up my activities including dancing and orienteering. Covid caught up with me mid-year and slowed me down for some weeks, though thankfully it seems without long term effect. Otherwise I've keep reasonable healthy and well. So, looking through some highlights of my year in pictures.
As usual I was in Melbourne for Christmas and New Year with my family. On this visit in Dec 2021, I went see Patricia Piccinini's "A Miracle Constantly Repeated" exhibition in the Flinders Street Station Ballroom. I'd long heard of this place, but this was the first time it'd been open to the public in decades, and it was wonderful to see the space, even though it is run-down. And I very much enjoyed her "uncanny" sculptures, such as the one here. Back in Canberra we had heavy rainfall (repeated through the year), as you can see in this photo of Googong Dam spilling in late Jan. At the start of Mar, I was honoured to receive this trophy recognizing the work I'm doing helping organize the electronic MapRun orienteering courses. These use an app on your phone to track participants around the course, so no physical control markers need to be put out. Our weekly street orienteering courses use this system, so I am involved in getting the courses published each week. I also created a couple of bush courses with this system, though only a few use it for now. Its been really nice to be able to help with this. I've completed more than 70 official orienteering courses this year, a mix of street and bush events, which I've really enjoyed. And the trophy is pretty spectacular! The etched glass cube is based on a scan of the tunnels in a termite mound. I have to pass the main trophy on to next year's recipient, but I do get to keep the little one. Also in Mar was the wonderful Enlighten festival, including the Balloon Spectacular which featured "Tico The Sloth", shown here. I was up early on several mornings to watch the balloons launch, and one time also drove to the far end of the lake to see some of them landing. Great fun.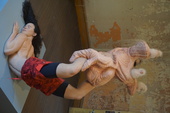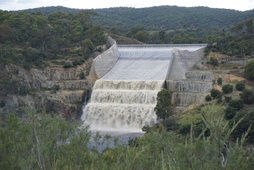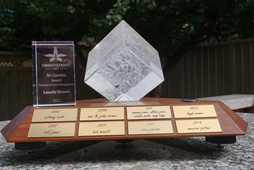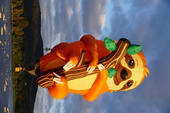 Enlighten also featured the wonderful building illuminations of course, hence its name, which I love. Here Questacon is shown with a space themed image. I went along a number of evenings to enjoy seeing all the illuminations. There was also the new Surface festival of street art and murals, including this large example on the side of a building in Braddon. And late Mar I enjoyed seeing the "Van Gogh Alive" exhibition. It was really impressive to be surrounded by all these dynamic images, which were projected on walls, floor & ceiling of the exhibition tent, so was a really immersive experience.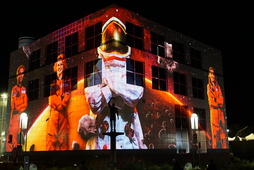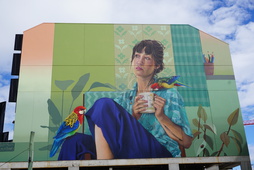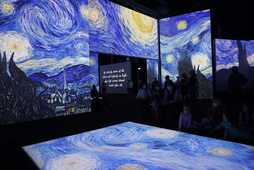 Over Easter I was back at the National Folk Festival at Exhibition Park in Canberra. It was a bit smaller than previously, but wonderful that it was up and running again. I enjoyed listening to a lot of music, here "Cigany Weaver" on the Fitzroy stage. I also went to a few dances, but for me the music was the main attraction. During the year I went to see a number of gallery and museum exhibitions. Here is a photo from the Ancient Greeks exhibition at the National Museum of Australia. In late Apr I drove to Melbourne for my Auntie Pat's 80th birthday celebration. This photo shows Pat with three generations of the family. In late May I enjoyed seeing the Jeffrey Smart exhibition at the National Gallery of Australia, which included this portrait of David Malouf.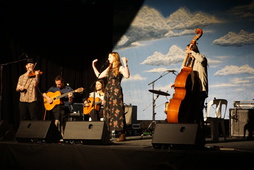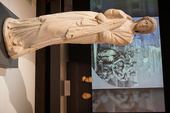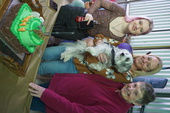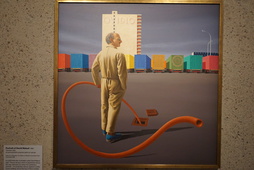 In June I travelled to Sydney for a few days to see Vivid, staying with my friend Edwina. Its another of these illumination festivals which I really enjoy seeing. We went in on two evenings. On the first we explored the projections around Central Station, as seen in this photo, and then up at Circular Quay. The following evening we went on a harbour cruise from Darling Harbour to see the displays from the water, which was really relaxed and enjoyable. And then explored the ones in the Darling Harbour area. Skiping forward a bit (wretched covid), in September I enjoyed seeing the Kite Festival at Googong (the town near the dam in the photo at the start). They put on some great events (I was also there for their Hallowean festival, a photo from that on p3 online). Here you see the flying Pirate Ship kite. It wasn't easy to get in the air, but once up it looked incredible. At the end of Sept and start of Oct I had a week away in Brisbane. I had a nice time playing tourist, and enjoyed exploring the Kaleidoscope Mirror Maze at the Powerhouse. You saw reflections of yourself in all directions, and it took me quite a few loops to finally find the exit (hidden behind one of the mirror walls, easy to miss)! I also really enjoyed taking several RiverCat trips into the city, so nice to just sit back and take in the views.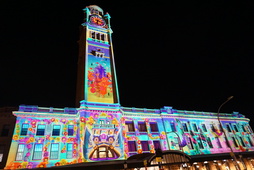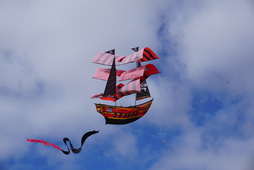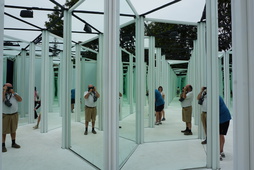 The main reason for this trip though, was to attend the Brisbane Balboa Weekend. This was the first big dance weekend, with international teachers and dancers from across Australia, that I'd been to since covid. I had a wonderful time. The workshops were excellent, and there were 3 evening dances, each with a different live band. This photo is from the Sat dance with Joshua Hatcher and his Highline Orchestra at the Elements Collective. Back in Canberra the following weekend was the Canberra Irish Set Dance weekend at the Hall Pavilion. That was also lots of fun, with this photo from the Sat evening ceili with music by Ian Hayden & Friends. And Canberra's Floriade tulip festival was back. I went to see it several times, both before and after the Brisbane trip. This photo was from near its end in mid Oct, with the view from the Big Wheel. You do get a much better appreciation of the patterns in the gardens from there.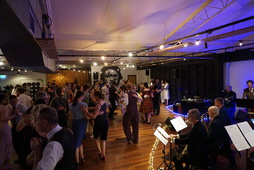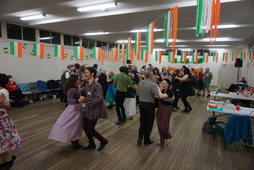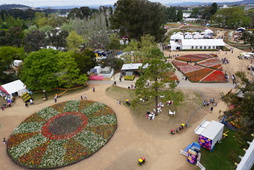 Late Oct also saw the inaugural Canberra Kinetic Sculpture Race, with some wierd and wonderful wheeled contraptions that had to race on both land and, with added floats, on water. The photo here shows the dragon bike, which was fastest on both land and water! And looked very impressive. At the start of Nov I headed back to Sydney for a few days to explore Sculpture by the Sea. This year they had 108 sculptures along the coast path between Bondi and Tamarama beaches. I walked the path 4 times over the 3 days I was there. And there were some impressive sculptures. I'm using one, Bruno Catalano's "Benoit" in my card this year (the original photo is on p3 online). Here is another sculpture I really liked: Paul Caporn's "Heads It Is", described as an "an unmonumental monument". You can see Bondi beach and Pavillon in the background. Lastly I've included a photo from Tom Moore's "Abundant Wonder" exhibition at CMAG in Nov.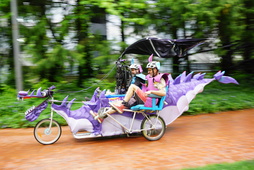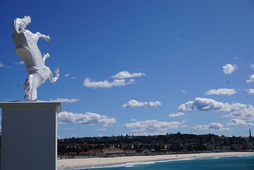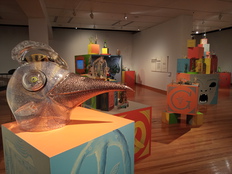 And in some work news (yes I may be retired, but only as far as academics don't so much retire as fade into the woodwork). I finally signed the contract with Pearson for a fifth edition of the Computer Security text I co-authored at the start of Oct. And they wanted the main updates by the end of Oct! Luckily I'd been expecting something like that so had been working on them for most of the year. I got them in, but am currently working on revising the instructor resources, and will get the page proofs to check early next year. So that has also been keeping me busy, and will do so for some months yet.
---
So thats a brief overview of some of the highlights of my year. I look forward to hearing your news.
This letter is online at: http://lpb.canb.auug.org.au/diary/.
Wishing you happiness and joy this festive season and beyond. Cheers Lawrie - 1 Dec 2022.
---
And a few more photos that I didn't get room to squeeze into the printed letter. First up is a photo of me finishing the Amaroo street orienteering course (taken by John Harding, the series co-ordinator). Next is a sunset photo of some outdoors blues dancing at Henry Rolland Park by the lake in Mar. Another photo of the Enlighten illuminations, this time of the National Library of Australia. And a photo of the statue of "Andrew Inglis Clark" by April Pine in Constitution Place in Civic in Jun.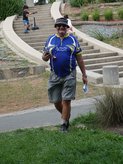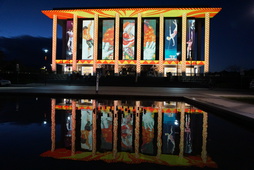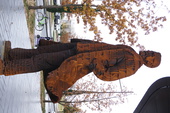 In Mar they installed this sculpture called "Big Swoop" in Garema Place in Civic. It was fun, but sadly was vandalised soon after. Next is a photo of two of the acrobatic aircraft that flew at the Canberra Airport Open Day in Apr. And in Sept a photo of one of the rocks on the Geological TimeWalk at Geoscience Australia.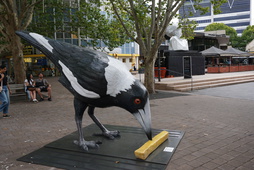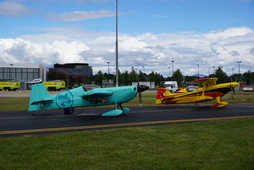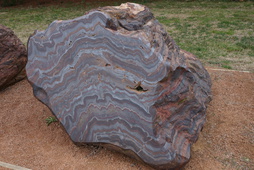 Another couple of photos from my Brisbane trip at the end of Sept. A really nice mural on the side of the Powerhouse, and a view of the "beach" at Southbank. I went swimming there several times, which was great after the cold weather in Canberra! Another photo from the Canberra Kinetic Sculpture Race. I really liked this shot of the snail with the 2 children looking out as it pedalled along. Then a photo of "Scare in the Air" performing ribbon aerials at Boogong at Googong at the end of Oct.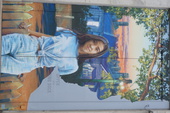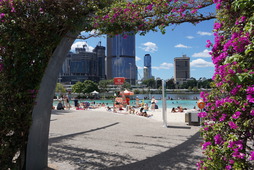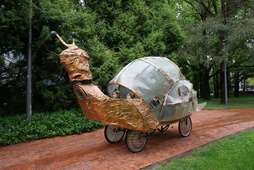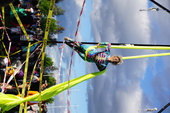 A photo of Jodi Martin playing at Smiths Alternative in Oct. Next the photo of Bruno Catalano's "Benoit" from Sculpture by the Sea, which I used for my card. The artist says that "The missing part represents what we leave behind in life ... memories, loves, experiences, everything we leave, to continue moving forward through our life. The bag that each of the Travellers carries with them is the baggage of their experience - what makes them who they are and sustains them." And another sculpture "Our Love Touches the Sky" by Ayad Alqaragholli which I also rather liked. The artist said it "is a bronze work that evokes the Western Australian based artist's early childhood memories of flying kites in Iraq - rekindling freedom and joy." Lastly a photo from the Night Owls blues dance social in Melbourne with Jessie Gordon singing.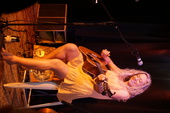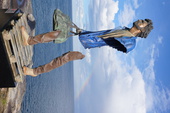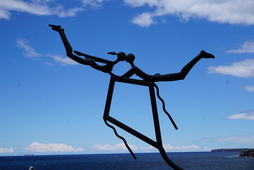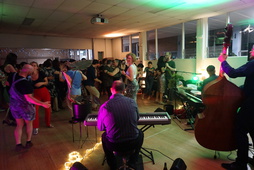 ---