Making adjustments to the HF beam antenna at the JOTA (Jamborree On The Air) station, Hughes Scout Hall, in Oct 92. I was helping out as one of the amateur radio operators for their station, which was VK1BP that year (16.6k).

Menanced by Storm Troopers at Constantinope the Australian National SF Convention, Melbourne, Easter 94. There were lots of great costumes to be seen! (18k)

Monaro Colonial Dancers display at the Scottish CDCC Ceildh at St John's, 11 June 1994. The photo was taken by Jill (31.8k).

view from Mt Gingera in the Brindabellas, above Canberra, on Queens Birthday, 13 June 1994, when Wendy, myself, Lesley, and Wiktor (photographer) walked in from the Mt Ginini car-park (21.2k).

at Floriade after a Monaro Colonials Dance Display in Sept 94 (38.8k).

Cross Country skiing round Five Mile Dam area at Cabramurra with Jill Gordan, in Aug 95 (19.3k).

hiking with Debra to a pass at 3000m, in the mountains above the ski resort of Brighton, near Salt Lake City, Utah, during my trip to US/Canada in Aug/Sept 95 (34.4k).

Niagara Falls under flood-lights at night, during my trip to US/Canada in Aug/Sept 95 (17.3k).

Danced Display at Majors Creek Folk Festival by a combined Monaro Colonial and Wongawilli Dancers display team, in Nov 95 (27k).

Tuross Falls on the upper reaches of Tuross river, in the Divide east of Cooma and Numeralla, in Jan 96 (50.7k).

Colonial Ball with the Wongawilli Massed Band playing, at the National Folk Festival, Canberra, Easter 96 (29.5k).

with Andrea Thompson (Talia Winters) and Jerry Doyle (Garabaldi) at the "Parliament of Dreams" Babylon 5 convention, Brisbane, May 96 (24k).


with Rosslyn (from the Bush Music Club, Sydney); and a view of the hall from the gallery; at the 1996 Monaro Folk Music Society's "Colonial Ball", Albert Hall, 21st September 1996.


Lawrie admiring the magnificent view from Preikestolen (the Pulpit), a large square, flat-topped rock 600 metres over Lysefjord in SW Norway near Stavanger, Norway, on 2 May 97 (50k).

The magnificent view of the town of Ballastrand on Sognefjord in SW Norway, whilst cruising up the fjord with my sister on 7 Aug 97 (51k).

The Monaro Colonial Dancers enjoying the beauties of Braidwood, after a display for their 98 Heritage Day festivities.
admiring Inferno Lake, one of the magnificent sights in the Waimangu Thermal Valley, near Rotorua NZ, during my trip there in Apr 99 (73k).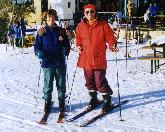 Lawrie and Robyn, (my sister) skiing at Mt Buller, on Wed 28 July 99. We had a great day, and the snow was in pretty good condition (76k).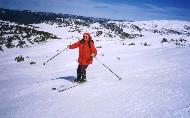 skiing at Perisher-Blue, I also managed 3 days there in Aug, catching one of the snow coaches down from Canberra on 3 successive Wednesdays, and did pretty well picking the weather, all 3 days were basically fine, with quite good snow conditions, so that was fun (51k).