Lawrie's 2008 Annual Letter
Hello everyone, yes its time for another Christmas letter. I do hope this finds you happy and well, and that you've had a good year. Its been a reasonably quiet year for me, and the first under the new regime of half-time work. Specifically I had a full teaching load in session 1, and none (just some PhD student supervision and wretched admin) in session 2. Whilst the first half of the year was pretty frantic, by now I am considerably less stresed than usual! I haven't been doing anything dramatic (no big O/S trips like last year) but have kept myself busy enough with assorted activites: dancing, folk festivals, walking, a little skiing, some relaxing (yes it is possible for me - on extremely rare occasons); just see the pictures:
To start there's a nice photo of my favorite surf beach at Pt Addis (between Geelong and Anglesea) taken just before New Year last year whilst I was visiting my family. Then a photo of me enjoying the natural water-slide at the Cascades on the upper Tuross River in Jan; and back at the Peninsula Hot Springs when I was in Melbourne in Jul, which my sister Robyn and I have really enjoyed going to.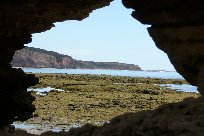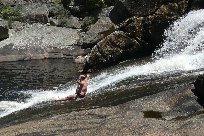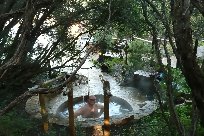 Next is a nice view south of Mornington towards Mt Martha, again from the Jul visit; a view of the Red Rock Gorge from the walking track along the Murrumbidgee River near Canberra; and a stormy sky approaching Majors Creek (where I was camped for the Folk Festival) in Nov.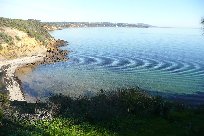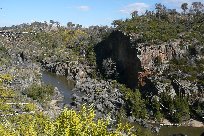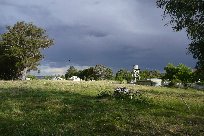 I managed a couple of day downhill skiing trips to Thredbo with colleague Mike Ford from work which were fun. I had some friends over for a birthday BBQ in Nov which was very pleasant. And I went along to the Conflux 5 SF convention in Canberra in Oct, where I was on the Harry Potter panel.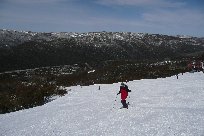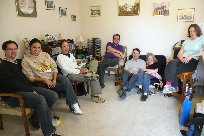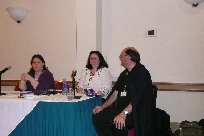 The photo of Trish with the inflatable Tardis is also from Conflus 5. Earlier in Jun, Trish organised a "secondhand bookshop crawl" across Canberra, we're seen here in Book Lore Lyneham! I've been doing a bit of bushwalking, by myself or with the Family Bushwalkers. The photo shows a group of us by the Rendezvous Creek Rock Art site, which we eventually found buried in scrub! And I've been out and about with dancing friends, here Bordonians at Floriade.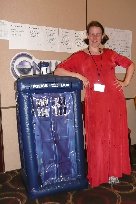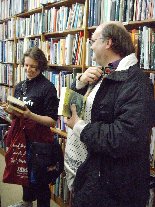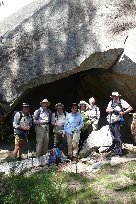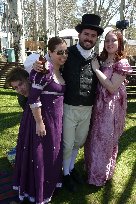 I've been dancing regularly with the Bordonian historic ballroom dancers, on Sundays and at some monthly balls, here the Mar Ball. As usual I danced lots at the GDS Dance Competition in Jul, this photo is ceroc with Jane. I've been doing lots of swing also. I got to the "Back to the 80's" STOMP fundraiser dance in Oct, which was great fun - lots of dancing of various styles and a bunch of demos.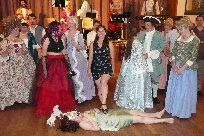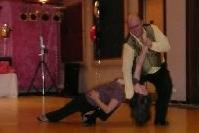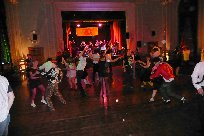 And I went to the usual range of folk festivals: Numeralla, Cobargo, National, Candelo, Gundagai and Majors Creek this year. I love seeing the various music performers and displays at these. The photos show Ingrid and Tahlia at the National in the final performances of "Fourth Realm" (sadly missed); "Mr Fibby" a rather unusual new act, and the Tahini Bellydancers - both at Majors Creek. All great fun.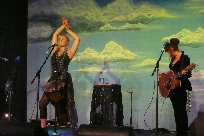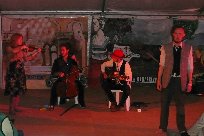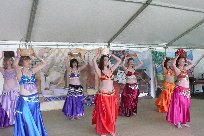 Thats it. May your life be filled with peace and joy this Christmas and New Year Lawrie - 4 Dec 2008.
---
The latest copy of this letter is at: http://lpb.canb.auug.org.au/diary/xmas08.html
See my web site: http://lpb.canb.auug.org.au/; or send email: Lawrie.Brown@canb.auug.org.au
---
And a few more photos that I didn't get room to squeeze into the printed letter.
A lovely closeup of some of the flowers at this year's Floriade in Canberra, brilliant and colourful as always. A rusted old tractor at the Old Cheese Factory in Reidsdale that I visited on the way home from Majors Creek. And some bird scultures on the harbour foreshore at Merimbula in Mar.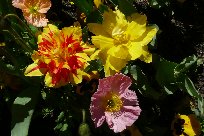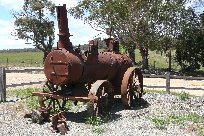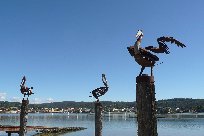 Whilst visiting the family in Melbourne in July, I spent a day enjoying the Art Deco exhibition, and the painting and sculptures in the National Gallery of Victoria. Here are photos of the 18th Century Gallery in the NGV, and of the gallery with my favorite statue Circe in the NGVI. And also from Conflux, fan and friend Edwina from Sydney peeking over her hucksters display!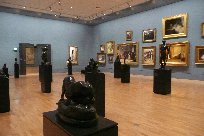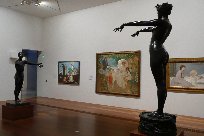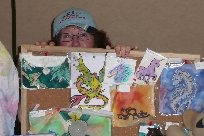 Driving back to Canberra from Majors Creek I discovered this wonderful roadside mailbox which I've decided to use as my card backdrop this year. And on Dec 1 the heaven's smiled down on us as Venus, Jupiter and the crescent Moon lined up just so. I was pretty pleased to convince the camera to take a few shots like this one! And lastly a photo of my brother David and Auntie Pat with the donkeys.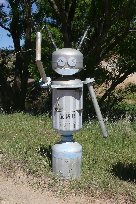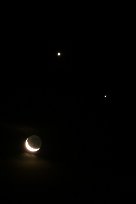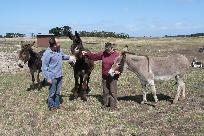 ---