Lawrie's 2011 Annual Letter
After an eventful 2010, this year has been quieter, with teaching and revisions for a new edition of my Computer Security text keeping me busy, as well as lots of social activities. First are photos of the Captain Cook Jet, Balloon Spectacular, and Enlighten reimages the National Library (2nd row). I got away to Melbourne a couple of times, saw the Shakespeare Window in the State Library with Brooke, and a Gleeson painting in NGV with Jane (2nd row). And got to see lots of sculptures, Dragon in McClelland Park, Sculpture by the Sea at Bondi, and reflections of me at Currumbin on the Gold Coast (2nd row)!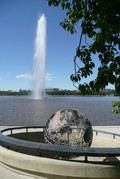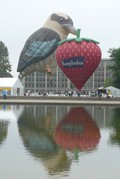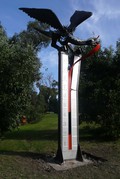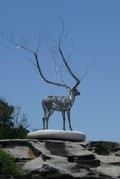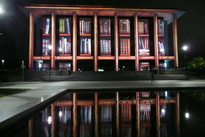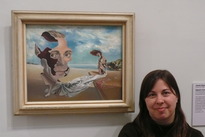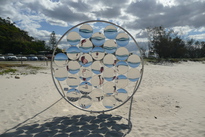 I went to a couple of concerts in the Antartica Music Festival, one shown here featuring instruments made entirely of ice! At the STOMP dances, they always put on a spectacular opening performance, shown here is the one from Galactic Rebellion in Oct. I had fun at April's Hallowean party where she's being terrorised by zombie Will. There were some lovely tulips in my garden again this year, and I watched the Queen & HRH cruise by in Oct. I've been following the progress of the Enlarged Cotter Dam construction that will soon hide forever the original dam, here flooding over after the Nov rainstorms.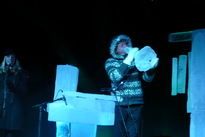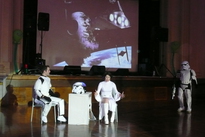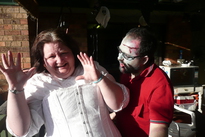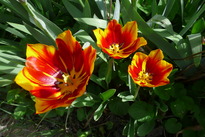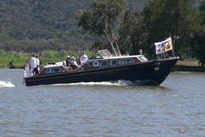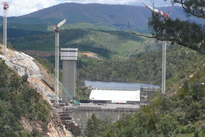 I enjoyed a nice soak in the Peninsula Hot Springs with my sister Robyn & friends whilst visiting Melbourne in July; hiked in to see the Sherwood homestead daffodils in the Brindabellas with the family bushwalkers in Sept; and danced at the Monaro Colonial Dancers 21st birthday celebrations in Oct. And as always, I enjoyed getting dressed up for various events, such as the Jane Austin Festival in April, a steam-train trip to Bugendore in May, and at the Conflux 7 Science Fiction Convention Banquet in Oct.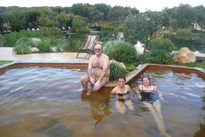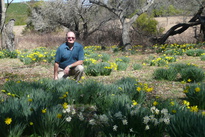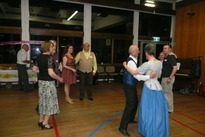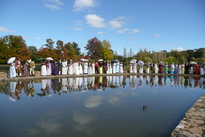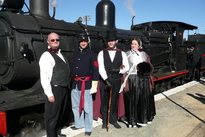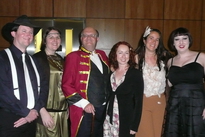 I've been to a number of folk music & dance events of course, such as a concert in Careys Cave at Wee Jasper in Jan, Linda's Saluti Armonici baroque concert in St Johns church in June, and many performances at the National Folk Festival at Easter. Shown here Alana & Alicia Egan performing. I also caught up with Ruby for Lucy in the church at the Majors Creek folk festival in Nov. Majors Creek is a lovely spot, next is the view there down into the Araluen valley. And I caught up with Edwina, shown here sitting on her hucksters table at Conflux with Tycho.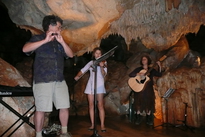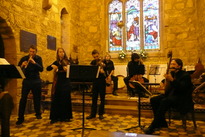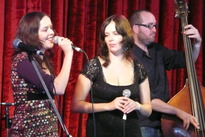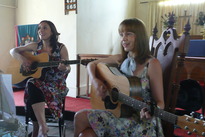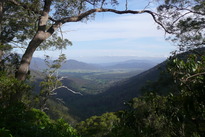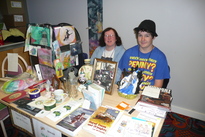 Thats my news. I hope you're keeping well, and look forward to hearing your news. May your life be filled with peace and joy this Christmas and New Year. Seasons Greetings! Lawrie - 1 Dec 2011.
---
The latest copy of this letter is at: http://lpb.canb.auug.org.au/diary/xmas11.html
My web site is: http://lpb.canb.auug.org.au/; and email: Lawrie.Brown@canb.auug.org.au
---
And lastly more photos that didn't fit in the printed letter. A couple of me dancing (ceroc at Jane's party and swing at Canberrang), Bordonian costumes at the Earthly Delights Potpourri Ball, my new skeleton pocket watch, and the National Museum arch. Then dressed up for the Jane Austin Festival, in a swing performance at the NFF, and dancing west coast swing in the GDS competition. Dancing at Bundanoon, a swing display at Floriade, and me on Davies Bay beach at Frankston. Some paintings & sculptures in the NGV, sunset from home in Chisholm, and Floriade. The Eagle sculpture at the Canberra Arboretum, the Antartica Festival dawn concert, and a sunset view from my friends house Ponderosa on the Gold Coast.