Lawrie's 2012 Annual Letter
Season's Greetings, I hope you've had a good year. Starting with the end of mine, I spent a wonderful 2 weeks in North Queensland mid-Nov, with a week at Trinity Beach, north of Cairns to see the total solar eclipse. This was an experience, the way it darkens so rapidly, and despite peeking through clouds was still awesome. I also did day trips to Green Island where I went snorkling over the reef there; and on the SkyRail and Tourist railway through the rainforests to/from Kuranda. Jean & Eric then drove me to Townsville. On the way we stopped at Paronella Park, a "Spaniard's Folly" with castles and pleasure gardens by Mena Creek Falls behind Innisfail. It really is an awesome place. In Townsville I walked up Castle Hill, explored the promenade & enjoyed swimming in the rock pool, went to the Imax theatre museum & acquarium, had a day on Magnetic Island, and a birthday lunch with Jean, Eric & Will.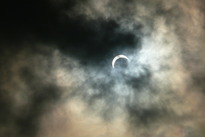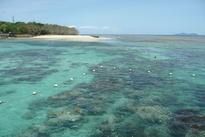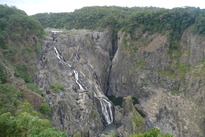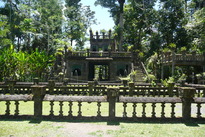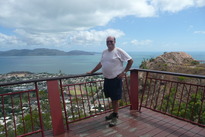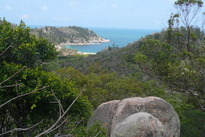 I was in Melbourne in January, and enjoyed the Toytopia sand sculpture display in Frankston again. I made several quick trips to Sydney, including in Nov to see Sculpture by the Sea, which I really do enjoy. And the Enlighten festival again did amazing things to Canberra landmarks, such as Questacon here.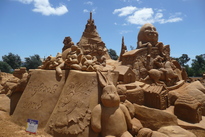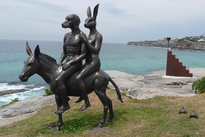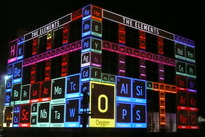 Also in Jan I enjoyed visiting Hanging Rock and admiring the views. In Mar we had massive flooding that overwhelmed the new Cotter Dam construction site. And late Oct I did a lovely walk in the Snowies.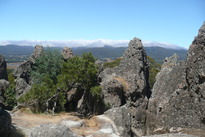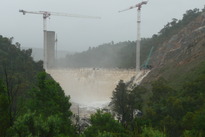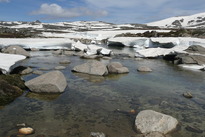 It was great to get to 3 SF cons this year. I do enjoy catching up with friends from years past, and just enjoying the fannish activities. Continuum in June had a "marine" themed masquerade. Then the wonderful old-style Con 9 From Outer Space in July featured some great robots and lots of discussion of B-grade movies. Both were in Melbourne. Then of course was Conflux in Canberra late Sept, where Fildenstar entertained us with some quirky SF themed songs.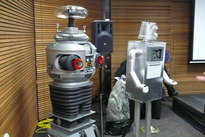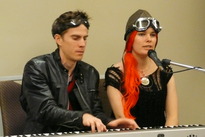 I kept a pretty busy schedule of dancing through the year. Earthly Delights as always had some amazing costumes: seen here performing for the Italian Renaissance exhibition at the National Gallery in Feb. The Jane Austin Festival in Apr was good fun, I even tried archery (badly!) Most of my time though is spent on various forms of swing dancing, and I had a great time at the packed Canberrang weekend of social dances. I get to quite a few swing socials, and also very much enjoy the west coast swing classes, and the guest teachers we had this year - however I tend not to photograph these as we're not in costume, and I'm too busy dancing!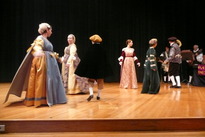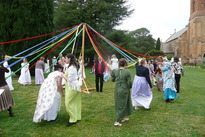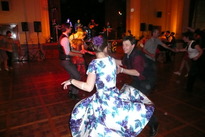 I only got to a couple of folk festivals this year. Liz Frencham is performing her magic at Cobargo in Feb; and Lindsay Pollack shows how to make instruments from just about anything (such as a carrot) at the National at Easter. In May I did a quick trip to Griffith for Luke & Brooke's wedding.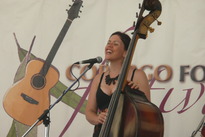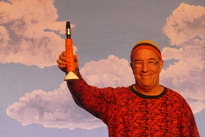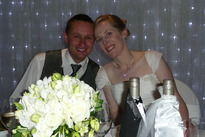 Thats about it for now, hope it gives some idea of my many and various activities over the year. I hope you're keeping well, and look forward to hearing your news. May your life be filled with peace and joy this Christmas and New Year Lawrie - 3 Dec 2012.
---
The latest copy of this letter is at: http://lpb.canb.auug.org.au/diary/xmas12.html
on my web site: http://lpb.canb.auug.org.au/; or send email: Lawrie.Brown@canb.auug.org.au
---
And a few more photos that I didn't get room to squeeze into the printed letter.
Bel in a gorgeous Italian Renaissance style costume from the Earthly Delights displays at the NGA; me enjoying a tethered hot-air balloon ride during the Balloon Spectacular in Mar; with Nicola at the Jane Austen festival in Apr; with a robot at Con9 in July; and my head on a plate at the Illusions display in the Townsville museum in Nov.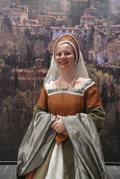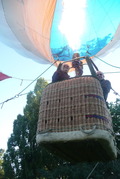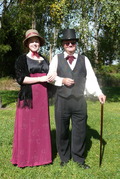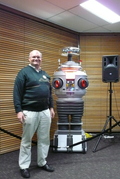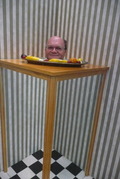 Another photo from Enlighten illuminating the National Library; several balloons launching at the Balloon Spectacular in Mar; and Eddie & Christie by the Eagle sculpture on Dairy Farmers Hill in the Arboretum for their Festival of the Forests in early Apr.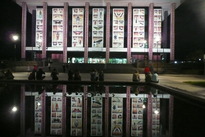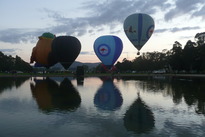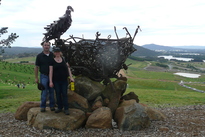 Lastly, this was a good year from my astronomy interests, as I also got to see the Transit of Venus in June - here a photo of the heliostat projection at Mt Stromlo (only just made operational again after the fires years back!) And I had a lovely couple of days skiing at Perisher with Roni & Linda in Sept. Finally one of the wonderful coral reef displays from the acquarium in Townsville in Nov.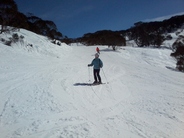 Thats all folks!
---