Lawrie's 2013 Annual Letter
Seasons Greetings! 2013 was Canberra's Centenary, and there's been a huge array of activities on to celebrate, a number of which I've been to and enjoyed. I've included photos of the awesome architectural lighting of Questacon from Enlighten, a selection of balloons, including the stunning Darth Vader from the Balloon Fiesta, and of the Fireworks on the One Very Big Day birthday celebrations, all in Mar. Speaking of balloons, a shot of the Skywhale at the Governor General's family day picnic in Sept. Whilst there have been very mixed responses to it, I think its quirky and fun, and have been to see it a number of times, and even had a brief tethered ride in it at the Bus Depot Markets in Oct. Next is a photo of the New Cotter Dam and Flow sculpture at its opening, and of myself at the new One-Tree Hill lookout with the wonderful view of northern Canberra, now accessible via a new section of the Centenary Trail from Hall.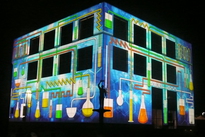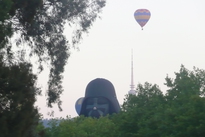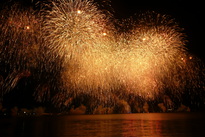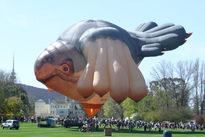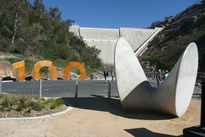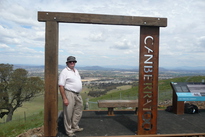 On a much sader note, my Uncle Hans died last Boxing Day, shortly after the photo below was taken. He was doing what he loved, driving his donkeys, but was thrown from the buggy in an accident. Despite the best efforts at CPR by Auntie Pat & myself, his injuries were just too severe. It was traumatic for all the family. I did otherwise enjoy my regular summer break in Melbourne, and got to see the 2012 McClelland Sculpture Survey finalists, and also this year's "Under the Sea" Sand Sculpture display in Frankston.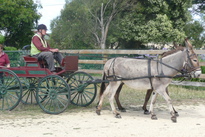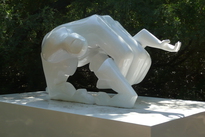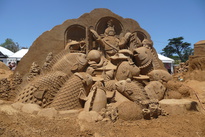 As always I enjoyed our wonderful landscapes here, as shown in the next set of photos. In Sept a group from church did the 14km walk from Casaurina Sands (at Cotter) to Kambah Pool. I've wanted to do this for a while, but it needs a car shuffle, so really enjoyed the chance to finally see the lovely views and scenery. Floriade as always was colorful, and this year I rode the Ferris Wheel there for the first time, and you really do get a different perspective from it! And the Thorny Devil sculpture is part of the new "Red Centre" garden that has just opened at the Australian National Botanic Gardens here in Canberra.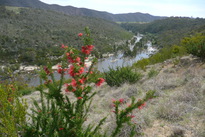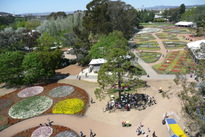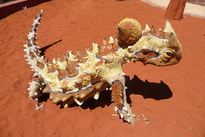 As always I've been doing a lot of dancing. The Monaro Colonial Dancers, whom I've been a member of for many years, did two displays at this year's National Folk Festival as a final hurrah. I've enjoyed a number of activities with the Earthly Delights Historic Dance Academy, including their retreat to Yarrangobilly Caves where we enjoyed a number of cave tours (in costume) and the thermal pool, and stayed and danced in the newly restored Caves House. Indeed, April was a crazy month with me attending six festivals: National Folk Festival, Jumptown Jam, West Coast Swing, Jane Austen Festival, Yarrangobilly, and Conflux 9! In the next group is a photo of more of Earthly Delights great costumes, here at the centenary Vintage Car Rally in Oct. However the majority of my dancing this year has been in the various swing styles, either Lindy Hop with Jumptown, or West Coast Swing with Audcity. There's a photo of Janine and Erin dancing lindy hop swing to live music at the Brassey Hotel, which has been on most Sunday afternoons with a range of bands. A lovely way to unwind for a few hours, which I've been to a number of times. Then of dancing at Jumptown's Canberrang Snow Ball at Albert Hall in Aug, one of two big weekends they run, and for which I attended both this year.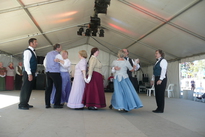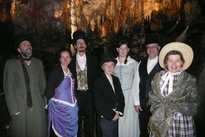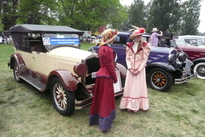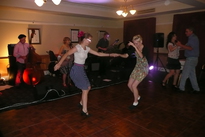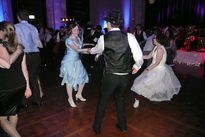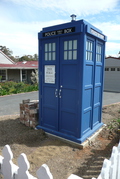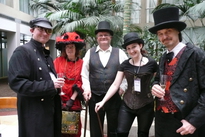 And I still very much enjoy science fiction, both in books and on TV. I enjoyed attending the Conflux 9 Australian National SF Convention, which started with a Steampunk High Tea as shown. And this year was also Doctor Who's 50th Anniversary, and I really loved seeing the special with friends. And we even have our very own Tardis parked in Hall!
Best wishes for the season, Lawrie, 26 Nov 2013.
Latest copy of this letter is at: http://lpb.canb.auug.org.au/diary/xmas13.html

---
And a few more photos that I didn't get room to squeeze into the printed letter.
Another quirky balloon from the fiesta, and of Skywhale headbutt at the Bus deport Markets (whilst inflating). Of Monique and Rhiannon at the NFF, and of the Contra in Carey's Cave concert in Feb.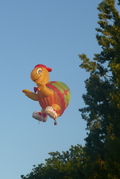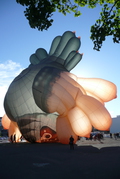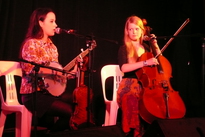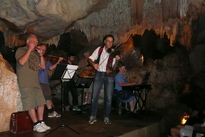 A couple of photos from the Jane Austen Festival, and Yarrangobilly Caves.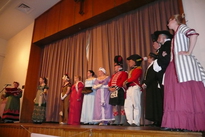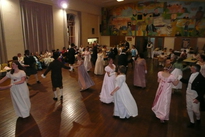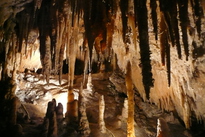 Hetty Kate and Gordon Webster at the Jumptown Jam Fall Ball, and the Conflux 9 Earthly Delights regency dance display at the banquet, and costumes at the Junkyard Catherdral masquerade.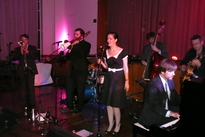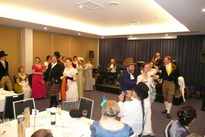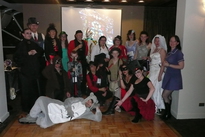 Southside beach between Torquay and Anglesea on the Surf coast from my summer visit, a rare view from atop the new Cotter Dam on the June Open Day, and the Nara Candle festival in Oct.