Lawrie's 2014 Annual Letter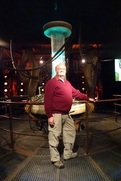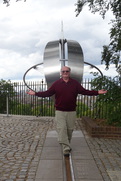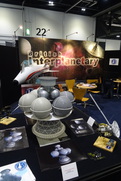 Seasons greetings. This year's big event was 2 months touring the UK from early Aug to Oct, seeing the sights and visiting family and friends. This started with the Loncon3 World SF Convention at London Docklands ExCeL (which was huge) including a large exhibition hall, see photo of BIS stand. Then a lovely day at Greenwich, photo of me on the meridian. From there on to Bath and then Cardiff for the Doctor Who Experience, where I got to stand in the actual 10/11 doctor's tardis set.

On my first day there, I saw the WW1 poppy memorial at the Tower of London (photo). Enjoyed the great costumes in the Loncon3 Masquerade (photo). In Bath I toured the Roman Baths (pictured) and had a lovely dinner and soak in the Thermae Baths. Then on to Abergavenny, Shrewsbury, and the Port Sunlight (near Liverpool) to catchup with my friends Colin and Rachel. We did a trip to the Trefriw Woollen Mill in Wales and enjoyed the countryside, including the Fairy Falls nearby (photo). I then travelled on to Manchester, and thence to Edale in the Peak District where I had an awesome 4 days of hiking around (photo). Then on to visit family around Haworth (Bronte country) area in West Yorkshire, where I did some more walking, including to Wuthering Heights/Top Withens (photo). Continued to Settle (more walking), the picturesque train trip to Carlisle, then Lancaster to visit my friend Linda, Dunbar (near Edinburgh) to visit my cousin Eric and family, and finally up to Inverness. There I did a lovely day trip to Loch Ness, including Urquhart Castle (photo). Returned to Dunbar and had a couple of days exploring Edinburgh, with this great view of the castle and Old Town from Museum rooftop (photo). Then back to Port Sunlight, and on to Oxford where I saw the School of Divinity (photo) on my explorations. Finally London to see British, Science and Natural History Museums and Westminster, and finally home.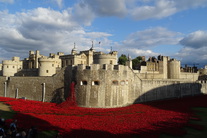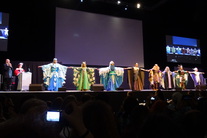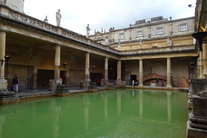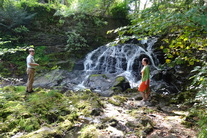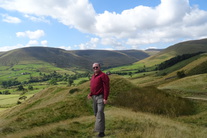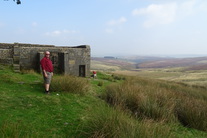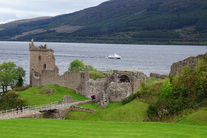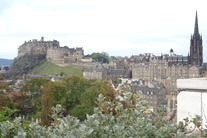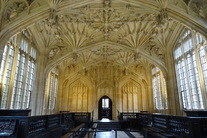 As always I've been doing a lot of dancing. At the moment I'm mainly enjoying various forms of swing dancing, including Lindy, Balboa, Blues and West Coast. See photo of me participating in Jumptown's Lindy Chorus display (learnt world-wide to celebrate founder Frankie Manning's birthday) at the Bus Depot Markets in Canberra in May. The Jumptown Jam (Apr) and Canberräng (Aug) swing dance weekends were awesome. I also went to various Earthly Delights Historic Dance Academy functions, with dances from the 1450's to 1900, including the Jane Austen Festival (Apr), the fun Victorian Era Dance retreat at Yarrangobilly Caves in April (photo), and a number of their monthly balls such as the Feb Valentines Ball (photo). Looking forward to their Christmas Carol Ball, which is always wonderful! And I made it to several folk festivals, including Numberalla (Jan), Cobargo (Feb), the National (Apr), Bundanoon (June), and Majors Creek (Nov), which were all fun (but no room for photos here!)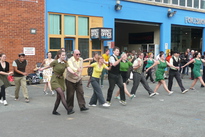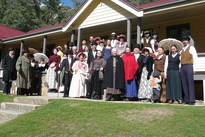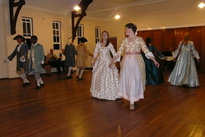 One of the great things about living in Canberra is the wide range of wonderful events on here every year. The Enlighten Festival in March with its architectural illuminations continues to amaze, here a photo of the National Libray with an historic map. The Pirate Pete balloon (photo) was my favorite in this year's Balloon Spectacular, also in March. Worth an early morning getup to see them launch and fly over the lake. And the very realistic sculptures in the National Portrait Gallery's "In The Flesh" exhibition in November, photo here of "Unsettled Dogs", were awesome. I also enjoyed the National Multicultural Festival (Feb), Barcamp (Mar), and the Nara Candle Festival (Oct).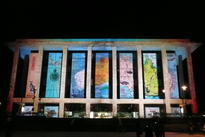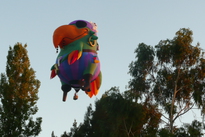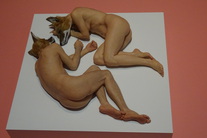 Once again I enjoyed the Sand Sculpture display in Frankston in Jan whilst visiting family over the summer break. Also managed a couple of days skiing at Thredbo before heading O/S, photo at top of Karel's at the start of the Supertrail. In July I did a lovely little tour to Sydney, Central Coast, Blue Mountains & Orange to visit friends, see late afternoon photo of the Three Sisters. Made it back to Sydney in Nov to see Sculpture by the Sea, which I love exploring, with my friend Edwina.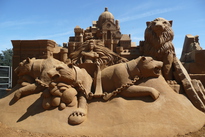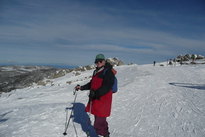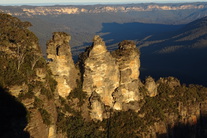 Thats about it for now, hope you enjoyed these photos of some of my activities. I hope you're keeping well, and look forward to hearing your news. May your life be filled with peace and joy this Christmas and New Year Lawrie - 1 Dec 2014. See http://lpb.canb.auug.org.au/diary/xmas14.html for latest version.
---
And a few more photos that I didn't get room to squeeze into the printed letter. Top row, from my UK trip, a contemporary art display in Edinburgh, me loaded up leaving Colin & Rachel's house in Port Sunlight, and replica Rosetta Stone in the Kings Library in British Museum (yes saw original as well). Then next row, the new Jane Austen Wax Statue (on R) in Bath, and some Saturn Rocket Engines from the London Science Museum. Back home, the Alaska String Band and the Horseshow Pear sculpture, both at the National Folk Festival in April. And one of the impressive Sculpture by the Sea installations in Nov.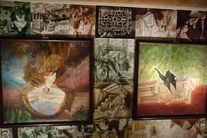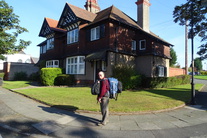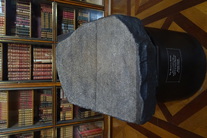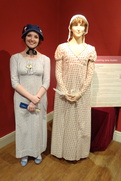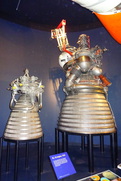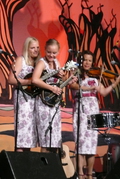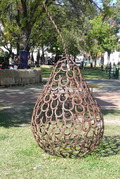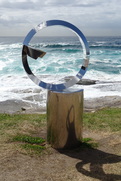 Another photo from Sculpture by the Sea (Nov), the Fiers a Cheval (inflated horse sculptures) at Enlighten with the National Portrait Gallery illuminated behind (Feb), and the Nara Candle Festival (Oct).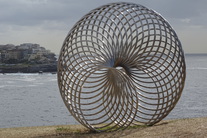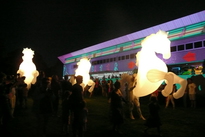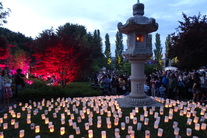 The Australian Colonial and Folk Dancers (Sydney) displaying "The Perfect Imbalance" at the National Folk Festival (Apr), swing dancing to Hetty Kate at the Lake George Winery for Canberräng (Aug), and We Came for Dinosaurs playing at the Majors Creek Festival (Nov).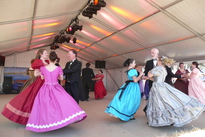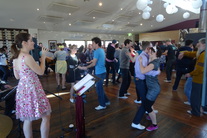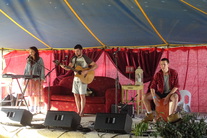 Thats it, hope you've enjoyed this update. Cheers, Lawrie.