Lawrie's 2015 Annual Letter
Season's Greetings, I hope you've had an enjoyable year. Mine has been much the usual run of activities, with perhaps the main news being that I've given my last Uni lecture as a paid academic. I'm busy clearing out my office as next year I have 9 months long service leave ahead of 54/11 retirement at the end of Oct. I have a visiting position with UNSW Canberra approved following that, but the work I'll do will be what I want, which'll be nice. Meanwhile, looking at some photo highlights. I love the array of events and activities I can get to. From the Star Wars Sand Sculptures at Frankston (L) in Jan, to the awesome Enlighten Festival architectural lighting, here of Questacon (M), and the Balloon Spectacular (R) both in Mar in Canberra. Then below are Skyfire (L) also in Mar, Benjamin Shine's Tulle Exhibition in the Canberra Centre called "The Dance" (M), and the Whale kite at the Googong Kite Festival in Aug (R).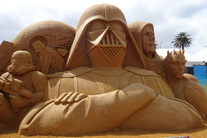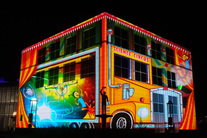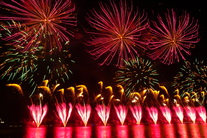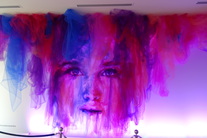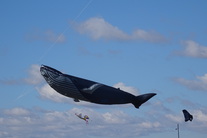 My dance focus continues to be with various swing dance styles. Apart from lots of classes and socials, I went to all 3 weekend swing festivals in Canberra: the Jumptown Jam in Mar, Canberräng in Aug (photo L dancing with Catherine thanks to Fudz Qazi), and Slowdown in Oct. This year I also went to my first out of town swing dance exchanges, going to Swingmania in Launceston in Oct (M), and to MLX in Melbourne in Nov (R again by Fudz Qazi). In other styles, I joined in several Earthly Delights Historic Dance events, including the 12th Night Ball in Jan (L), and to the Goulburn Waterworks Steampunk & Victoriana Fair in Oct (M). And I went to several folk festivals, including the National at Easter (R).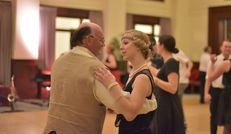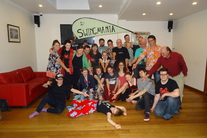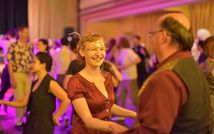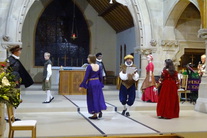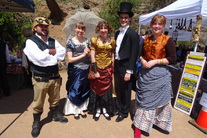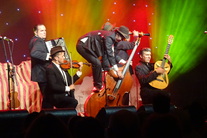 To satisfy my science fiction itch, I went to see the Doctor Who Symphonic Spectacular in Sydney in Feb with my friend Lucy & her daughter Rachel (with me & Tardis L). In Mar I headed to Melbourne for the Con 70 Retro SF convention, which was a blast from the past (M)! And in Oct to the Cabinet of Oddities performance at Conflux, which was a wonderful evening of readings from various authors, or one to illustrations by the very talented Kathleen Jennings, with accompaniment from a range of flutes (R).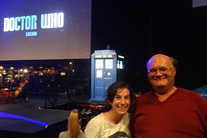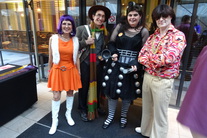 I didn't do a great deal of travelling this year, apart from trips for the various festivals, as mentioned. I did head to Sydney in May to see the Vivid architectural lighting display with my friend Edwina, including a very enjoyable harbour cruise, and also admired the awesome lush projections on Customs House (L). I also spent a lovely couple of weeks touring Tasmania in Oct-Nov when I went to Swingmania, and also explored the Bass Coast (Table Cape view M), the Western Tiers, and caught up with friends in Hobart. And for something very different, what happens to soap bubbles on a frosty Canberra winters morn (R)!.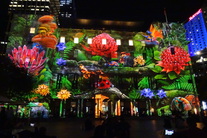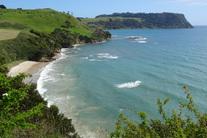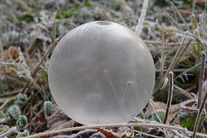 And enjoying the variety in the Canberra region, I walked to the Canberra Centenary Trail lookout on One Tree Hill with friends in Jun (L). Made a number of trips to Floriade (2L). Walked in to see the Big Hole and Marble Arch on the Shoalhaven, and found various orchids (M) in Oct. And took my friend Lynne to see the sculptures around the NGA (2R), including experiencing the dusk light cycle in the Skyspace (R) in Nov. Also this year, as a new challenge I'm learning to play the piano after going to the Understanding Music Seminar in Feb, which has been lots of fun.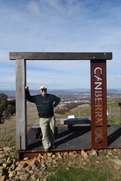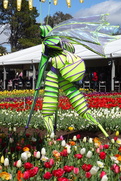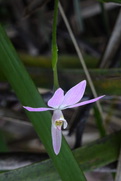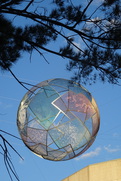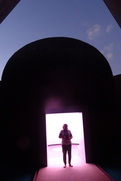 Thats about it for now, hope it gives you some idea of my many and various activities. I hope you're keeping well, and look forward to hearing your news. The latest copy of this letter is on my web site at: http://lpb.canb.auug.org.au/diary/xmas15.html

Lawrie - 9 Dec 2015
---
And a few more photos that I didn't get room to squeeze into the printed letter. First is a photo of my new Yamaha Digital Piano (L) that I bought in May when I decided I was enjoying learning to play and would keep practising. Then a couple more swing dance photos, of me competing in the Jack 'n Jill competition at the Jumptown Jam in Mar (M), and of my friends Kate and Catherine playing for dancers in their band "5th Avenue" (R). Next is another photo from my Sydney Vivid trip of the Opera House (L). Then of me participating in the World Record Stargazing event at ANU in Aug (M). And of the "Angel of the North" statue at the NGA with the Carillon behind in Spring (R).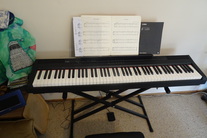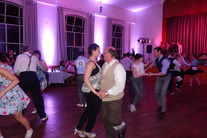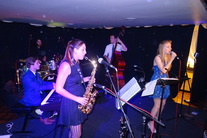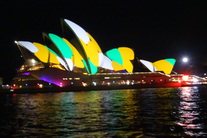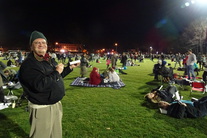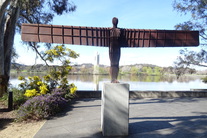 A view of the Big Hole from my walk there in Oct. And a couple more photos from my Tasmania trip, from the Mole Creek Caves (M), and of Liffey Falls (R), which I used to make this year's card.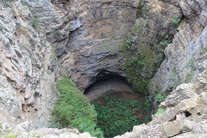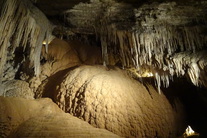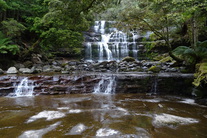 And lastly, another photo from the Balloon Spectacular of the Angry Bird balloon over the lake (L). Of Melissa & John dancing at the Jane Austen Festival Ball in Apr (M), and of flowers in my garden at home in Oct.