Lawrie's Christmas Letter - 1999 in Review
With Best Wishes for a Joyful and Happy Christmas, and lots of fun in 2000 (hope you have a great party)! Its been a pretty good year, no the least because I took 2nd semester off on long service leave (having being at ADFA nearly 15 years!), and without the stress from work, things were a lot more pleasant. To be fair, I should say that 1st semester this year went a lot more smoothly than 98. During the year, I managed to do a fair bit of travelling, and other fun activities, which was great.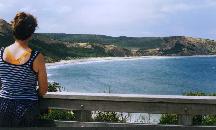 This is a view of my favorite beach: Pt Addis, on the Victorian surf coast, between Bell's beach and Anglesea, with my sister Robyn admiring the view. I usually manage to get there over Christmas, which we spend at my cousin's farm off the Angesea road. Then, in Febuary I took a few days off and drove the back dirt road over the Brindabella ranges to the west of Canberra, across to Tumut and Adelong. Camped a night on the Goobarragandra river, then drove round the Snowy Mountains Hwy to Yarrangobilly caves and hot springs. Toured one cave that day, then camped 20km back at the Yarrangobilly village site. Toured another cave & went swimming, before driving back home via the Boboyan road through Namadgi National park.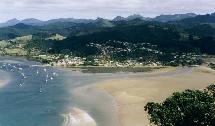 I made two trips to New Zealand this year, which was great as I've not managed to get there before. In April I headed over to attend the UniforumNZ99 conference, where I taught a workshop and gave a paper. It was held in Rotorua on the North Island (in the middle of a thermal area) which was pretty nice. I had the weekends before and after to do a bit of touring. After flying in to Auckland, I headed straight out and drove round the Coromandel Peninsula, which is really beautiful (see the view over Tairua to left).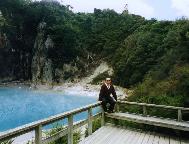 I was struck by the jaggedness of the mountain terrain compared to Australia (one of the things which made it really obvious I was O/S). From there I drove to Mt Maunganui, before heading down to Rotorua itself. Whilst there, I squeezed in some more sightseeing in between conference sessions, including a half day walking down the Waimangu Thermal Valley, created last century when Mt Tarawera blew its top off. It has lots of spectacular thermal scenery, including the Inferno Lake (which I'm sitting admiring right). After the conference I visited the Waitomo glowworm caves, taking a boat trip through them, before returning to Auckland to fly home.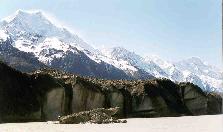 Then, as the main trip of my sabbatical, I spent 4 weeks in Oct exploring the South Island, having a wonderful time. I flew in to Christchurch and collected a car in which I did 4000km in that time! There were lots of highlights in this trip. After a couple of days in and around Christchurch, I headed for Methvyn, and went downhill skiing at Mt Hutt - they still had 1m base of snow and were open till the end of Oct!

From there I drove to Lake Tekapo which is really pretty & did a bit of walking whilst the weather cleared elsewhere. On to Mt Cook, where I took a boat trip to the Tasman glacier (left), and did a couple of walks, including up the Hooker valley to the Hooker glacier terminal lake (right). I found the mountain, snow and ice scenery here just spectacular, and would love to do more walking in this area.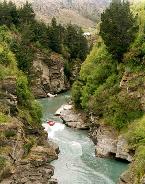 Whilst the weather stayed good, I raced down to Queenstown, where I rode the jet boat on the Shotover river; hooning down gorges at 70km hour just cm off the rocks!! (left) and then on to Fjordland where I did three great tours. First was the day trip to Doubtful Sound which involved a boat cruise across Lake Manapouri, a bus trip over the ridge and down to sea level, then the cruise on Doubtful Sound itsef (right).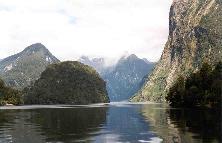 The scenery was just magic with the mountains rising straight out of the sea, and we also saw dolphins swimming, the seal colony and even a small group of yellow crested penguins. Then I drove down the spectacular road to Milford Sound (below left) and did an afternoon cruise there, in misty weather with some great scenery. The following day I drove back, and did a walk up to Key Summit (in the cloud & rain that'd arrived) to a point of a 3 way watershed! Back in Te Anau where I took the cruise across Lake Te Anau to the caves there - more glowworms! Just wonderful.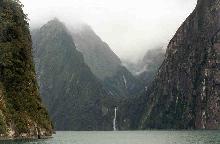 The weather wasn't as good from then, but I drove round the Southern Scenic route, stopping in Riverton & Invercargill, and then on through the Catlins - lots of forests & waterfalls, to Dunedin. Here I had a nice day and took a vintage train trip up the Taieri gorge. Then drove back to the mountains and did a couple of great 1/2 day walks in the Mt Awesome National Park near Wanaka - up the Rob Roy valley to get some wonderful views of the glacier and peaks at its top, and the Diamond lake walk for some lovely views over Wanaka itself.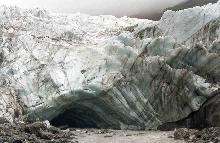 Then on to the west coast (& west coast weather - they get 7m of rain a year!!!) I did get a nice day to do a guided day walk on Fox glacier (photo right), which was really interesting, but didn't see much else in the west. Headed north to the Nelson Lakes National park, where I did a walk up the St Arnaud range - 1100m vertical up down in 5 1/2 hours, probably the hardest walk I think I've ever done! Completed the loop over the top and down to Kaikoura where I went swimming with the dolphins (interesting), before finally grabbing a swim in the hot pools at Hanmer Springs, before flying back home from Christchurch. In all a very busy but enjoyable trip.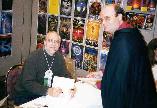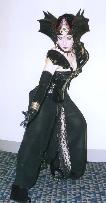 Another highlight of my long service leave (and the original reason for taking it now) was attending Aussiecon 3, the 57th World Science Fiction Convention in Melbourne in September. I had a great time!!! It was really wonderful catching up with friends whom I'd not seen in years (wonderful how an event like this pulls people out of the woodwork!). I enjoyed hearing the guests - being particularly impressed with Greg Benford who gave a very interesting talk on communicating into the far future; and J Michael Straczynski, the creator of Babylon 5 (my very favorite TV SF show), shown in the photo left signing his book on scriptwriting for me. I got to quite a few interesting panels: including one on time travel & how its used in SF, another by Sean McMullen on getting details such as fight scenes or bellydancing correct in your writing (with live demonstrations :-), and even a midnight panel on vampirerotica! I also found my way to a few parties, which were fun. There were some great costumes at the masquerade, both on the stage and hall costumes, such as that shown in the photo to right.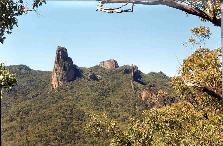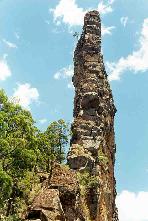 The last of my trips, in early Dec, was a park crawl round northern NSW. First I spent 5 days camping & walking in the Warrumbungles National park - one of my favorites, with some really beautiful volcanic formations. I managed to do all the listed walks - racking up over 70km in the 5 days. Weather was fine and hot, and the scenery was just magic. Did the loop over the Grand High Tops (left) and round the Breadknife (right) twice, as well as climbing Bluff Moutain, Mt Exmouth, and Bress peak. Had a great time. Then I spent the following week driving down the Waterfall Way from Armidale to Dorrigo, exploring the parks along the way, admiring the views, especially the Wollombi and Ebor falls, and doing another 30km of walks. In all an enjoyable trip, and I got back feeling pretty fit!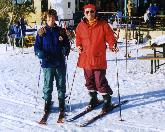 During the year I managed a few days downhill skiing. In July I drove down to Melbourne to visit family and friends, and headed off to ski Mt Buller, my sister Robyn (photo left) and her friends Roger. We had a great day, and the snow was in pretty good condition.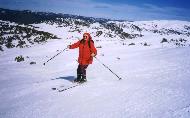 I also managed 3 days at Perisher-Blue in Aug, catching one of the snow coaches down from Canberra on 3 successive Wednesdays. Managed pretty well with the weather, all 3 days were basically fine, with quite good snow conditions, so I got some decent skiing done! One of the trips was with friends Daryl, Ingrid and Jim, and we meandered our way over a fair bit of the resort, the photo right is of me on Mt Perisher. Also got a bit of walking in at various times, either on day walks with the Family Bushwalkers, earlier in the year, or just with friends. Mostly in Namadgi national park or the Brindabellas.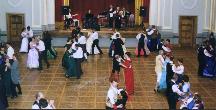 On the dancing scene I've been pretty active as usual. I'm still really enjoying Ceroc, though my attendence in the latter part of the year has been pretty erratic. In the folk scene I got to the Numeralla, Jamberoo, National, Kiama, and Majors Creek festivals, and to balls in Sydney, Bundanoon (for Jill's 50th), and of course, the marvellous MFMS Colonial Ball, in Albert Hall in Canberra in Sept (left). Also got to the White Heather (Canberra) and Cooma Scottish country dance balls. Plus still managed the occaisional evening of ballroom. So lots of fun as usual.

This year also saw several friends weddings: Gerard & Lorraine in Canberra in January; then Peter and Rosaria's in March; and Rosslyn & Mike's in July; both in Sydney. Along with a recent conference there, this means I've driven the Hume Hwy to Sydney a few times (and reminded myself of how bad Sydney's traffic is, and why I can't imagine any reason to ever want to live there!!). Nice to visit though!
I guess that just about covers the highlights for this year - its been a good one. I hope you're keeping well, and look forward to hearing your news.
---
With my Best Wishes and Lots of Love, Lawrie, 4 Jan 2000
---
If you're interested, you'll find more photos and details in my web area for:
the latest copy of this letter is at: http://www.canb.auug.org.au/~lpb/diary/xmas99.html
my trip to NZ in April 99 at: http://lpb.canb.auug.org.au/adfa/seminars/unz99/review.html
Aussiecon3 at: http://www.canb.auug.org.au/~lpb/diary/Aussiecon3-99/
and other photos in my online album at: http://www.canb.auug.org.au/~lpb/photos/
My personal web pages are at: http://www.canb.auug.org.au/~lpb/
You can contact me be email at: Lawrie.Brown@canb.auug.org.au